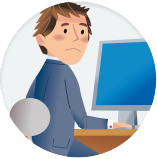 You should be out there selling homes.
But you're stuck in front of a computer, looking for something clever to post to your Fanpage... again.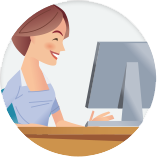 There must be a better way! What if a professional managed your social media?
Maybe an expert in both real estate and social media? A great communicator that can give you that professional sizzle?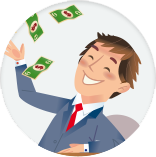 That's what CityBlast's Social Experts do.
As often as you choose, your Social Expert will update your Facebook, Twitter and LinkedIn presence, so you don't have to.
It's like having your own team of Social Media Experts, working on your behalf. Except CityBlast's Social Experts work for you for less than $2/day.

How Do I Start My 14 Day Free Trial?
Our simple 3 step online signup process will have you looking professional in less than 60 seconds. You'll never be embarrassed by your social media presence again AND you'll never have to spend another minute searching for something to post on your Fanpage. All you have to do is:

Step 1
Tell us where you work

Step 2
Tell us how often to post

Step 3
Tell us what you want posted
That's it. It's literally that easy. Turn your social media marketing headache into something you can be proud of. Your friends and family will literally be complimenting you on your brand new online image.
Start Your 14 Day Free Trial Now!
Do You Have More Questions?
Our Social Experts are on call. Feel free to call our , Live Chat with us or drop us an Email. Our social media marketing team is here to make your life easier.

CityBlast's Real Social Experts are always standing by ready to help you.
Chat With An Expert
- OR -
Send Us An Email
- OR -
CityBlast's Social Media Experts let you get back out there and SELL!
That's how CityBlast's founder, Shaun Nilsson, was able to make over $165,000 in commissions through posting on his Facebook alone - in his FIRST YEAR AS AN AGENT!
Facebook is where your real estate business really needs to shine in order for you to be successful in today's market... and CityBlast gives you the professional presence you need, with none of the daily hassle.
But how does it work? It's pretty simple, actually.

Sign Up
When you first sign up (PS - we offer a 14-day totally risk-free trial) just tell your Social Expert a exactly how you want them to post.

And we do the rest!
Our Social Experts will then harness the power of "Inbound Marketing" to convert your friends, fans and followers into leads.